As social distancing becomes the new norm and in an abundance of caution, we have cancelled all in-person April Fair Housing Month events for 2020. We are focusing our efforts online and have some fun new ways to celebrate, create, and learn about fair housing rights and responsibilities.
Here are some creative activities that you and your families can do at home to celebrate Fair Housing Month with us:
Fair Housing Month events are made possible with the support of the Champions of Affordable Inclusive Housing and the U.S. Department of Housing and Urban Development (HUD).
---
Read about the 2019 Fair Housing Month activities events here:
HeART and Home: Celebrating Inclusive Communities
CVOEO, the ONE Arts Center, and other partners celebrated Fair Housing Month in April 2019 with workshops, exhibits, and other events highlighting home and community.
Fair Housing Month, which is held in April each year to celebrate the passing of the Fair Housing Act in April 1968, brought people of all ages and backgrounds together to celebrate, create, and learn about fair housing rights and responsibilities. This fifth annual series of events combined education and art to raise awareness about housing discrimination and the positive role that inclusive, affordable housing plays in thriving communities.
Fair Housing Month events in Burlington included an art contest, four exhibitions of local artists, art activities for all ages focused on celebrating home in our inclusive community, workshops from partner organizations on landlord and tenant rights and responsibilities, and a special proclamation from Mayor Miro Weinberger affirming the city of Burlington's commitment to eliminate housing discrimination and increase housing opportunities for all.
Fair Housing & Art
Art and creative expression help connect people to one another as well as to big ideas. Art helps us make meaning of our collective and individual experiences and provides us with a tool to reflect. By celebrating and promoting fair housing through the arts, people of all ages, skills, abilities, and backgrounds had the opportunity to connect over what home, community, inclusivity, and diversity mean to them.
Close to 100 participated in the Fair Housing Month art activities by joining the workshops, exhibiting art, and entering the contest (click here for the winners). Check out a selection of photos from Fair Housing Month here: http://www.thrivingcommunitiesvt.org/fair-housing-month/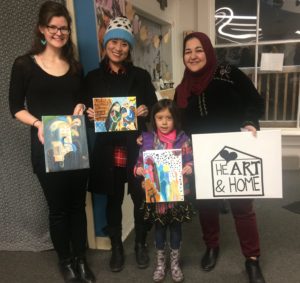 Want to get involved with Fair Housing Month 2020? Contact us at fhp@cvoeo.org.
There are many ways to get involved – Join Us!