Each April we celebrate the 1968 passage of the Fair Housing Act with a series of public education and art events to raise awareness about housing discrimination in Vermont and the positive role that inclusive, affordable housing plays in thriving communities.
In 2020, due to COVID-19, we switched gears to focus on online info sessions and fun, creative ways for people of all ages to celebrate Fair Housing Month from home or online. Read all about this year's Fair Housing Month activities here, visit www.fairhousingmonthvt.org to see the online HeART & Home art gallery and videos from the Fair Housing Fridays webinars, and go to https://youngwritersproject.org/node/32735 to read the winning entries for the Fair Housing Month writing contest.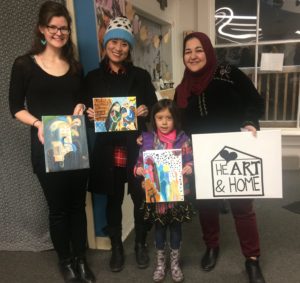 Want to get involved with Fair Housing Month 2021? Contact us at fhp@cvoeo.org
Fair Housing is the right to equal opportunity in housing choice and the right to rent or buy a dwelling free from discrimination. The federal Fair Housing Act passed into law in April 1968 and prohibits discrimination concerning the sale, rental, and financing of housing based on race, color, religion, national origin, sex, and as amended, disability and family status. Vermont has additional protections based on age, marital status, sexual orientation, gender identity, receipt of public assistance, being a victim of domestic violence, sexual assault, or stalking, and denial of development permitting based on the income of prospective residents.
Fair Housing Month events are made possible with the support of the Champions of Affordable Inclusive Housing and the U.S. Department of Housing and Urban Development (HUD).