As social distancing becomes the new normal, the Fair Housing Project of CVOEO replaced all of this year's in-person April Fair Housing Month events with online and home-based activities. Read all about this year's Fair Housing Month activities here.
Each April we celebrate the 1968 passage of the Fair Housing Act with a series of public education and art events to raise awareness about housing discrimination in Vermont and the positive role that inclusive, affordable housing plays in thriving communities. This year, due to COVID-19, we have switched gears to focus on online info sessions and fun, creative ways that people of all ages can celebrate Fair Housing Month from home or online, including:
FAIR HOUSING FRIDAYS: A series of informational, interactive video sessions on Fair Housing issues in the context of COVID-19. The Zoom webinars will be held from 12:30-1:30 pm, with recordings available for later viewing. Hear from local experts, with plenty of time for Q&A. Register online at www.fairhousingmonthvt.org/fair-housing-fridays.
April 10: "State and Federal Housing Policy: What's happening and how it affects you" with Erhard Mahnke of the Vermont Affordable Housing Coalition and Chris Donnelly of Champlain Housing Trust
*See Video and Resources here*

April 17: "Tenants' Rights and Renting during COVID-19" with Erika Johnson of Vermont Legal Aid and Karin Ames of Vermont Tenants

April 24: "Fair Housing during (and in the wake of) COVID-19" with Melissa Horwitz of the Vermont Human Rights Commission and Ted Wimpey, Fair Housing Expert/Advocate
HeART & HOME EXHIBIT: This partnership between the Fair Housing Project of CVOEO, ONE Arts and the T. W. Wood Gallery showcases several Vermont artists who created works exploring what makes a community thrive in the context of fair housing and inclusivity. Visit the online gallery at www.fairhousingmonthvt.org
HeART & HOME COMMUNITY ART PROJECT: It's easy to join this all-ages art project! 1) Think about what HOME or INCLUSIVE COMMUNITY mean to you, 2) Create a drawing, collage, painting, photo, sculpture, comic, video, or any other type of art, and 3) Take a photo, and share it on the HeART & Home Facebook page at www.facebook.com/HeARTandHomeVT, on Instagram with the tag #FairHousingMonthVT, or email it to fhp@cvoeo.org.
FAIR HOUSING MONTH WRITING CONTEST: Teens are invited to participate in a Young Writers writing contest for a chance to win cash prizes. Go to https://youngwritersproject.org/node/32735 to respond to prompts on belonging, shelter, and justice. We also welcome writing submissions from adults (although the prizes are only for youth). Adults may send writing directly to fhp@cvoeo.org.
We will add more Fair Housing Month activities throughout the month. The evolving schedule is at www.fairhousingmonthvt.org/get-involved.
Fair Housing is the right to equal opportunity in housing choice and the right to rent or buy a dwelling free from discrimination. The federal Fair Housing Act passed into law in April 1968 and prohibits discrimination concerning the sale, rental, and financing of housing based on race, color, religion, national origin, sex, and as amended, disability and family status. Vermont has additional protections based on age, marital status, sexual orientation, gender identity, receipt of public assistance, being a victim of domestic violence, sexual assault, or stalking, and denial of development permitting based on the income of prospective residents. For more information about fair housing in Vermont, visit www.cvoeo.org/FHP.
Fair Housing Month events are made possible with the support of the Champions of Affordable Inclusive Housing and the U.S. Department of Housing and Urban Development (HUD).
---
Read about the 2019 Fair Housing Month activities events here:
HeART and Home: Celebrating Inclusive Communities
CVOEO, the ONE Arts Center, and other partners celebrated Fair Housing Month in April 2019 with workshops, exhibits, and other events highlighting home and community.
Fair Housing Month, which is held in April each year to celebrate the passing of the Fair Housing Act in April 1968, brought people of all ages and backgrounds together to celebrate, create, and learn about fair housing rights and responsibilities. This fifth annual series of events combined education and art to raise awareness about housing discrimination and the positive role that inclusive, affordable housing plays in thriving communities.
Fair Housing Month events in Burlington included an art contest, four exhibitions of local artists, art activities for all ages focused on celebrating home in our inclusive community, workshops from partner organizations on landlord and tenant rights and responsibilities, and a special proclamation from Mayor Miro Weinberger affirming the city of Burlington's commitment to eliminate housing discrimination and increase housing opportunities for all.
Fair Housing & Art
Art and creative expression help connect people to one another as well as to big ideas. Art helps us make meaning of our collective and individual experiences and provides us with a tool to reflect. By celebrating and promoting fair housing through the arts, people of all ages, skills, abilities, and backgrounds had the opportunity to connect over what home, community, inclusivity, and diversity mean to them.
Close to 100 participated in the Fair Housing Month art activities by joining the workshops, exhibiting art, and entering the contest (click here for the winners). Check out a selection of photos from Fair Housing Month here: http://www.thrivingcommunitiesvt.org/fair-housing-month/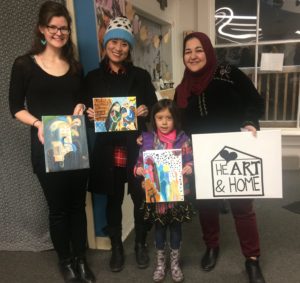 Want to get involved with Fair Housing Month 2020? Contact us at fhp@cvoeo.org.
There are many ways to get involved – Join Us!