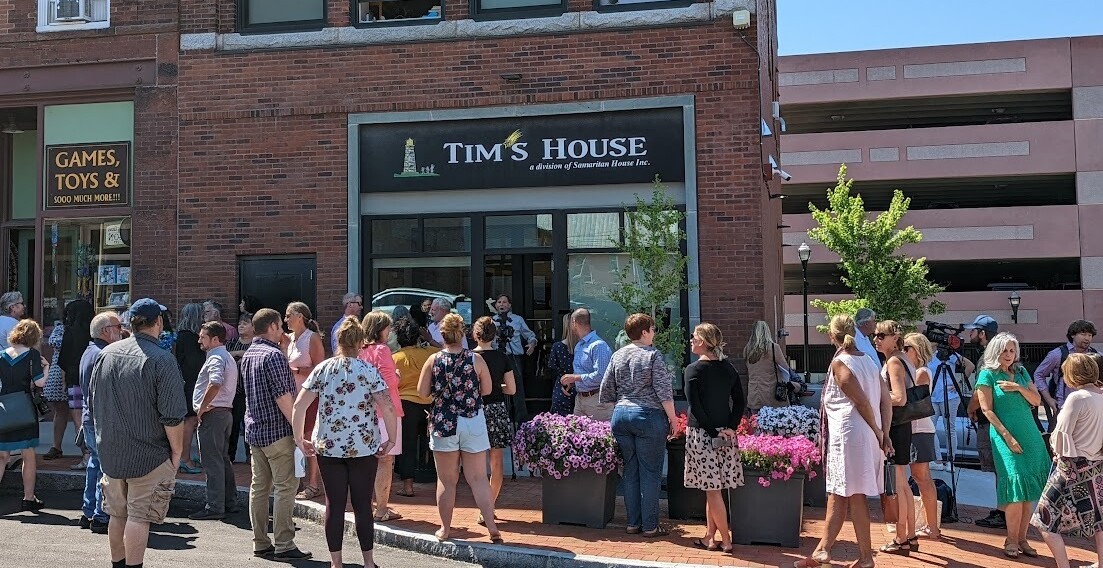 What we do
Samaritan House provides emergency shelter and support services to people experiencing homelessness in Franklin and Grand Isle Counties. Our Mission is to empower people experiencing homelessness in our community to access safe housing and support.
If you or someone you care about is in need of emergency shelter or housing support, please give us a call today at 802 527 0847.
Our services
Tim's House Emergency Shelter: Located above our Kingman Street offices in St. Albans, the shelter can host 16 individuals. Tim's House provides guests with a private bedroom and access to a shared kitchen/living room/bathroom. We serve individuals (18+) experiencing homelessness in the Franklin/Grand Isle area and offer accommodation for those with disabilities.

Those who stay in our shelter also receive the support of an experienced Housing Advocate. Housing Advocates, also known as case managers, help guests find affordable, stable housing and help with any barriers impeding the housing search (access to benefits, health care, mental health services, substance misuse, etc.). Case managers can continue to work with clients even after they move out of the shelter to provide additional support.
Support Services: Our Housing Advocates work in close coordination with other CVOEO programs and community partners to ensure all of the clients' needs are met, so they are successful not just in finding housing, but in maintaining the stability needed to remain housed.

Additional Services: In addition to the emergency shelter and affiliated case management services, Samaritan House strives to serve all those in need in our community. We have a supply of new hygiene items, camping gear, and household goods that are provided to those in need. People without a stable home are also welcome to visit us during business hours to take a hot shower or do a load of laundry. We also connect community members with other local service providers who may be able to offer further assistance.
Eligibility
Samaritan House never discriminates on the basis of age, gender identity, race/ethnicity, sexual orientation, marital/family status, religion, social status, disability or language. We stand firmly in our belief that housing is a human right -- all are welcome at Samaritan House. Certain types of criminal history may require us to help you find shelter somewhere other than our main facility, but our supportive services are available to everyone in need.
Give to Samaritan House
One of the most useful ways you can support our organization is through a monetary donation. Keeping the shelter operational is expensive (the average cost to shelter one person for one night is more than $50) and the outreach we do in the community adds to that cost significantly. Your support is crucial in helping us continue service to our community.
We understand that financial giving is not an option for everyone. Here are additional ways to help further our mission:
Volunteerism: We always need support at our front desk, cleaning our facilities and organizing donated items. Give us a call to see how you can help!
Donate an item: We are always in need of unopened cleaning and hygiene supplies as well as bedding in good condition. If you have an item you'd like to donate, but aren't sure if we need it, please just reach out. Unfortunately, we are no longer able to accept clothing. Storage space is limited, so please call ahead to confirm our ability to accept a donation.
Participate in our events: Attend, sponsor, and share!
Word of mouth: Encourage others to support our mission, promote legislation which helps people experiencing homelessness, like us on Facebook (facebook.com/samaritanhouseinc) and share our events.
Samaritan House, Inc. began serving people experiencing homelessness in Franklin & Grand Isle Counties in 1993. Based in St. Albans, VT, Samaritan House operates Tim's House - an emergency shelter for families and individuals experiencing homelessness. Our dedicated Housing Advocates have supported our clients by providing housing case management and coordination with other vital services en route to safe, affordable, and stable housing. Thanks to the support of local churches, businesses, foundations, and individuals, Samaritan House makes a vital difference in our community.
Tim's House, a transitional housing center and a division of Samaritan House Inc., was named after Timothy Joseph Bovat. Bovat, a life-long Franklin County, Vermont resident who passed away in February 2000 from a traumatic brain injury while doing what came naturally to him, serving others. He served his community through the Franklin County Regional Chamber of Commerce, The Rotary, The Court Diversion Program, Big Brothers & Big Sisters, Martha's Kitchen and other programs.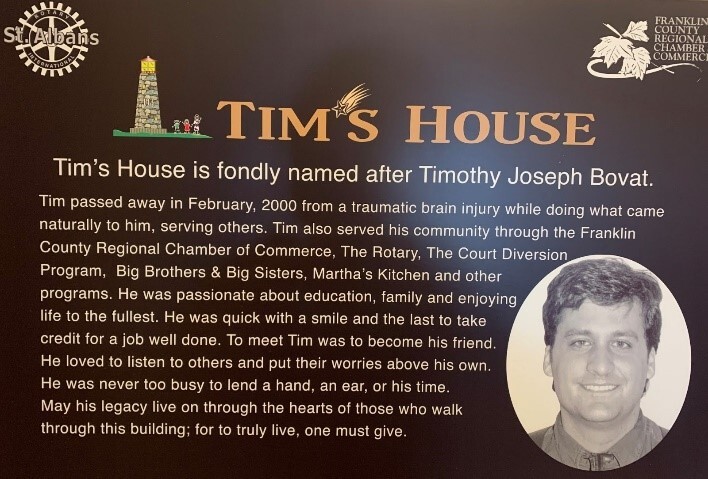 On July 1st, 2022, Samaritan House, along with Tim's House, became programs of the Champlain Valley Office of Economic Opportunity (CVOEO). Program Director Ben Kaufmann celebrates this change, sharing "Our work supporting those in need in our community will only be strengthened by this partnership."
Annual Golf Tournament:
The Annual Tim's House Golf Classic is held the third Friday of every August at Champlain Country Club. Featuring a fun day of golf, great food and great prizes, the Tim's House Golf Classic is always one of our favorite days of the year. The tournament field always fills up, so make sure to get your registration in quickly. We are always looking for sponsors, volunteers, and items for the silent auction. If you'd like to be a part of one of the biggest charitable events in our area, email Ben Kaufmann at bkaufmann@cvoeo.org for more information.
Annual "A Walk in Their Shoes" Event:

As a critical fundraiser for local emergency service and food providers, the event aims to educate our neighbors about homelessness in Franklin and Grand Isle Counties by offering an opportunity to learn about the daily challenges that our unhoused neighbors encounter. "A Walk in Their Shoes" participants are provided with a guided tour around St. Albans by CVOEO staff members who share information about what it means to experience homelessness in our community.

"A Walk in Their Shoes" is for the community, by the community. All residents are encouraged to attend, walk, and/or support our fundraising efforts. The event is a meaningful experience for school groups, church groups, families, and anyone looking to increase their awareness of CVOEO and our partners and heighten their empathy for our neighbors in need.

Email Ben Kaufmann at bkaufmann@cvoeo.org for more information.
$5 Fridays on Facebook:
An easy and low-cost way to support the shelter, $5 Fridays helps us end the week on a high note! Visit our Facebook page on Fridays to enter our weekly raffle. Featuring gift certificates and other items from local businesses, all you need to do is make a $5 donation to the shelter in that week's Facebook fundraiser (1 entry for every $5 donated) and then check back the following week to see if you're our winner.
Contact Us
Samaritan House
20 Kingman Street
St. Albans, VT
Business Hours
Mon-Fri 8:00AM-4:30PM
Phone
802 527 0847
---
Ben Kaufmann – Program Director (ext. 140)
Erin Davis – Associate Director (ext. 320)