In our words, in our community
David (Barak), Client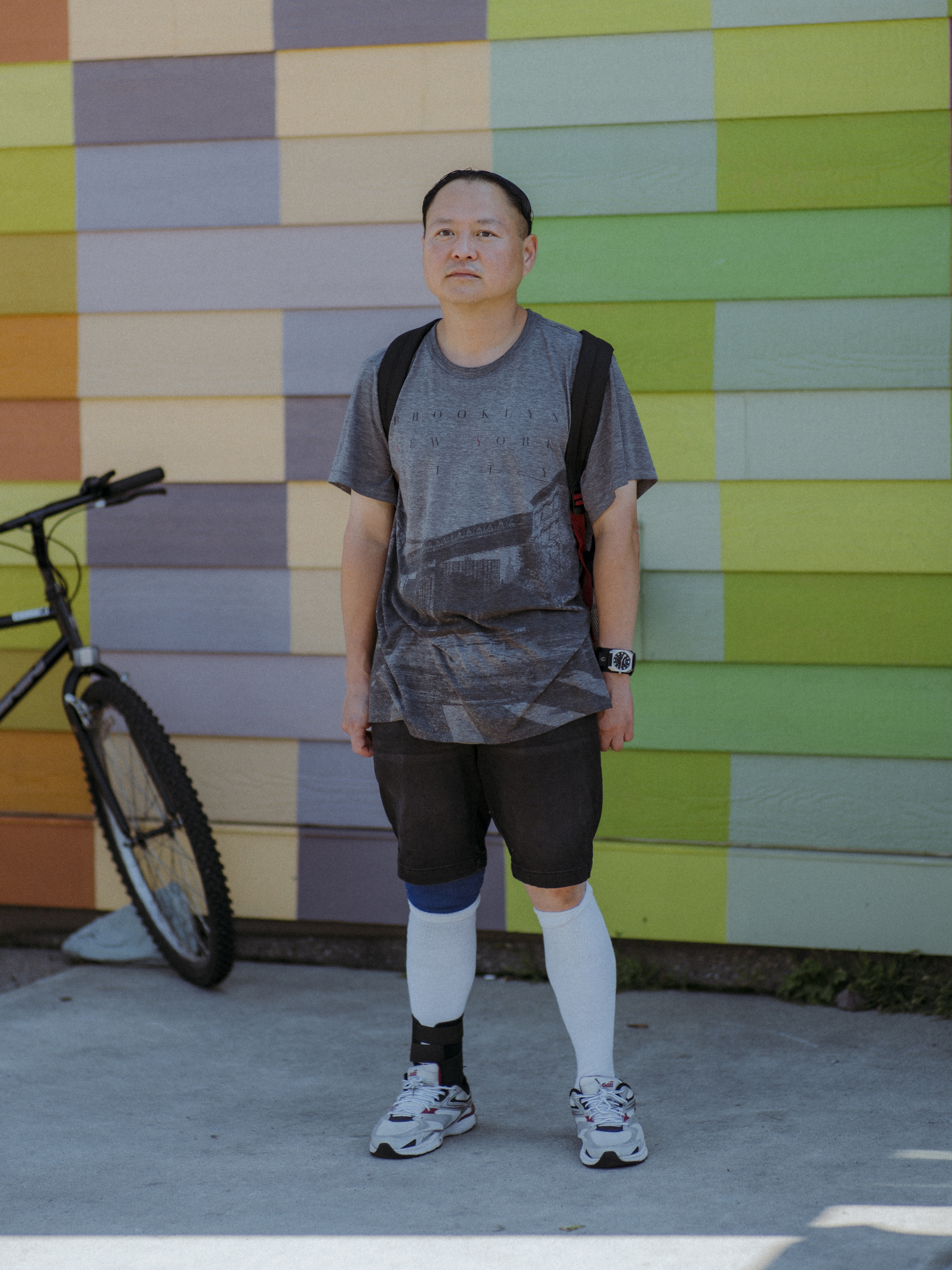 Photograph by Macaulay Lerman


Audio excerpts

Audio by Vermont Folklife
1. "I heard that [Vermont] had better rights and access to them..." (1:39)
David (Barak): I was born in Seoul, South Korea, but I was adopted with my brother when we were infants and we were put on an airplane and taken to New York. And we were adopted through pictures and met our family in New York at the airport.
VT Folklife: And so how did you end up in Vermont?
David (Barak): Well, it's right near New York. And I had heard that they had better rights and access to them. Because I was diagnosed with a disability, bipolar, and I couldn't actually get to live in New York City because they have a long waiting list for Section eight and it's more, much more expensive. So I thought of Vermont. My childhood was the normal Scarsdale, they say--the rich middle-class Westchester neighborhood, with a lot of mixed races and human rights. My father was one of the people who took the train every morning, came back every evening from New York City. So they're white. My mother's mother, my mother's grandmother, she was still alive and in New York also, she was a millionaire and had family that died on Titanic, the actual Titanic.
VT Folklife: Oh, my goodness.
David (Barak): And my father actually is, his ancestor is the architect for the Bronx River Highway, the first highway in the United States. His ancestor was the architect for that.
VT Folklife: Wow, you have quite the family.
David (Barak): Yeah.

2. "And walk--it's always walking..." (1:33)
David (Barak): I'd been homeless in San Francisco before, and then I, my parents said, "You can come back and live with us. You know, you're homeless," so I said, and I went back to New York.
VT Folklife: What was your experience like being homeless?
David (Barak): Only walking or trying to sleep and staying out of the cold and out of the heat. But only that. Walking, carrying things, being, having no shelter. And walk--it's always walking. Like the soup kitchen--they call that "soup kitchen." It's not like Vermont, they call it soup kitchens. It was really just walking back and forth. And then you can't carry everything because you have no shelter. So that was really the worst. People had tents and got used to it. I just did a lot of walking.
3. "CVOEO, they've helped me a lot..." (:56)
David (Barak): CVOEO helped me last year. I stayed at a new place. I'd stayed on North Street before and I'd stayed at the Waystation before, down at King Street and Church Street. And I stayed where that gas station is on Shelburne Road, that hotel. They turned it into A New Place, also--they call it A New Place. And then I went to the economic services and they let me stay at the--oh, my goodness--the Shelburne Motel. Now, I always know what it's called because I just stayed there last year for like 90 days, and I got there, and it's--help from the Coronavirus assistance to stay in a motel until I got an apartment. Otherwise, I would have stayed at a new place every night and gone out during the whole day and then come back and for a place to sleep and, you know, a tray of food. And so I was really lucky that they gave the assistance, and I had assistance from Caroline Rubin. Also CVOEO, they've helped me a lot. They had done my taxes and they had given me assistance with the utilities over the years. Yeah. So and I'd worked with CVOEO, they'd been assisting me as much as the economic services, the Social Security, Section Eight and Disability. They've been with me the whole time. I've gotten assistance for them with them and gotten into them a lot.