In our words, in our community
Toni, Staff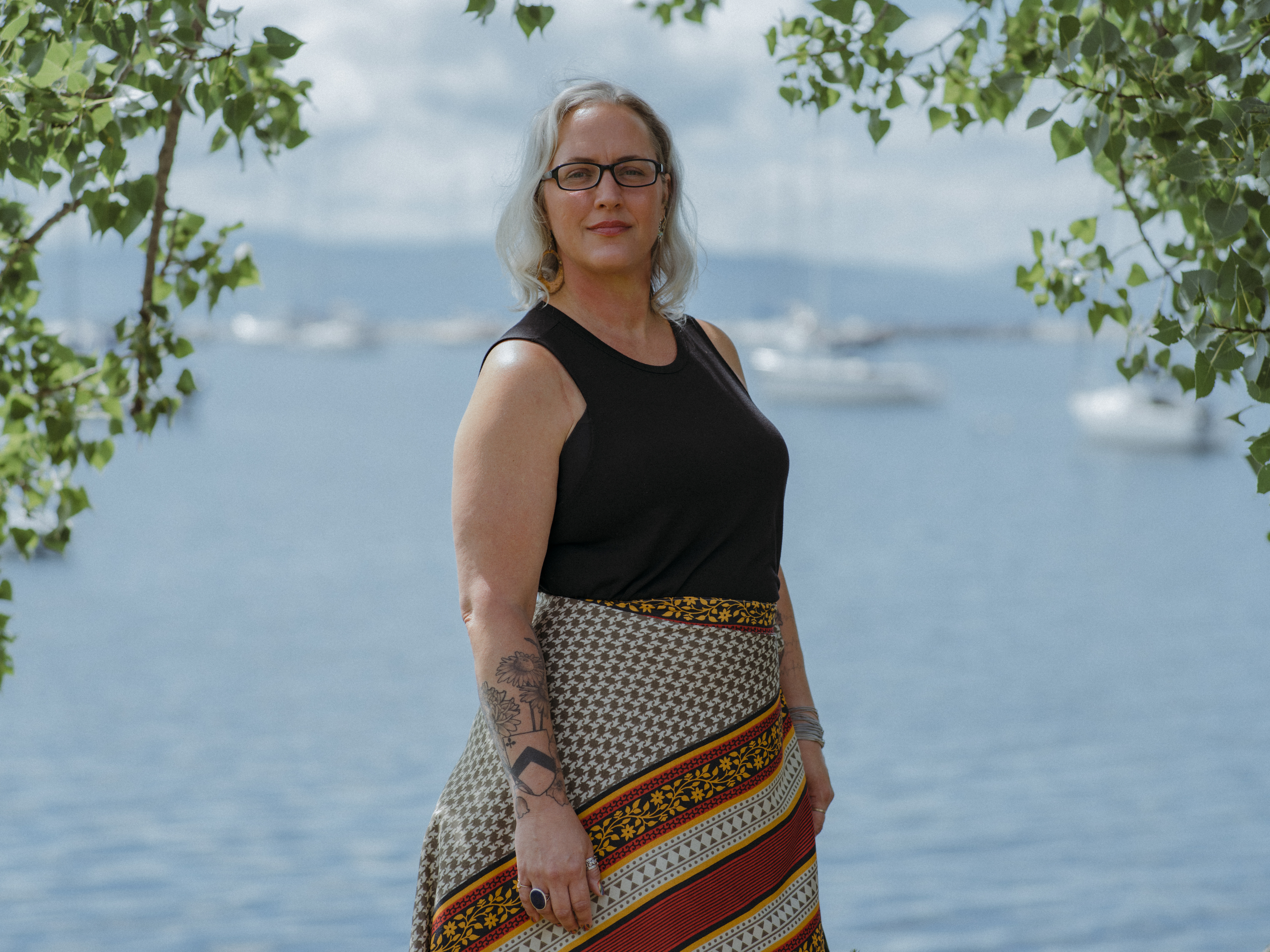 Photograph by Macaulay Lerman


Audio excerpts

Audio by Vermont Folklife
1. "You get into a hole that you can't get out of..." (3:21)
You get into a hole you can't dig out of, and you can't dig out of it because the shovel doesn't exist. And so it's a systems issue. It's--I think there's a perception that people use benefits or like to be on benefits or it's easier to be on benefits. I really feel like it's important to disabuse people of that. Getting benefits for yourself and your family: Reach Up, Food Stamps, Section Eight, it's a full-time job to do the paperwork and go to the meetings and do the things, and in fact, there are so many people who don't receive those benefits because they don't have the capacity to do the things it takes to get them. So that's what keeps people poor. I mean, the system is, is designed to keep you just poor enough. And I'll give--well, I'll give you a personal anecdote. I had a job at one point that provided health insurance for full-time employees. But the health insurance was expensive and not great. But if you were full-time, you were required to take it because that's how the world works. And so I had to ask my boss to please only schedule me 31 hours a week so that I can continue to get Medicaid for my kids. Because if I had had my children on this insurance, there would be like, no way I could eat. And these are the tradeoffs people make. Like, you have to constantly be thinking about that. Like, if, "If I do this, will it hurt this?" And not because I wanted to stay on benefits, but because I wanted to take care of my family. Which is a different thing, you know? I love not being on benefits now. And now I'm in this hole that a lot of people who are low income are in, where they make just enough to not get the entitlements like Three Squares Vermont, or like Section Eight, but not really enough to do well and take care of things. And, and there's a lot of Vermonters there as well. And it's--and I think we see a lot of them at fuel season. We're seeing them now with these VRAP applications, like "How do I just give myself a little leg up?" Because there's no other way to get it. So you have to, like, it's, you're constantly looking for, like little things that can help you because nobody's giving you a way to really take care of it yourself. And it's, it really requires so much work. Imagine if folks who were low income and had families on these programs were able to like, focus that energy on a job or doing better. Like, they'd be so successful. But it's so depleting that you just can't do both
VT Folklife: Yeah.
Toni: And so that's, that's why, I mean, I think that's the root of, of generational poverty anywhere, not just in Vermont. Yeah.
2. "...you're always aware of what you don't have here." (3:07)

What I think is different about, I'll say about Chittenden County, and maybe the rest of Vermont, to other places is that, is that people who are living in poverty and people who are living very far from poverty are living in close proximity to each other. And I don't, I don't know that you see that in many places. I mean, certainly growing up the way I did, I never--I had to leave the country to, to meet a poor person, right? Because it just wasn't something I ever encountered. And I know that there are other people who grow up in places where, like, everyone is in poverty and they don't--but here are people who are in poverty live like three doors down from people who are quite wealthy. And I, I think it makes it harder on a, you know, on a psychological level deeply, because you are, you're, you're always aware of what you don't have here. And it makes things like navigating school and social situations especially difficult for people in poverty. I'll say in Burlington and Winooski specifically because that's what I'm most familiar with.
You know, when I go to a PTO meeting, there is an assumption that you have access to things that middle-class people have access to. And if you do not, it is assumed that you don't do things because you're a bad parent, not because you don't have the capability. So, as an example, "why don't the Old North End parents ever come to PTO meetings and Booster Club and whatever at the high school?" And, well, the answer to that is the bus stops running at seven. So if your meeting is at 6:30, they can't get home. Right? But what that translates to in perception is "These people don't care about their kids enough to come to this thing." And it's, it's, it's really hard to, to break that. And then you live in it and you sit in it and you internalize it and you always feel like you're not quite doing enough, even though you're doing all you can. And it's simply because people in poverty don't work 9 to 5 jobs, they don't have cars, they don't have, like, access to these things that people who have never lived in poverty think are basic to everyone. And, and I think, I think that, that, that's one of the biggest things in Vermont that is difficult. Vermont is so much better than so many places with programs. You know, I mean, it'll never be enough. It's never enough. Better doesn't mean good. But still, we do better than a lot of places. But the, just, you know, there's not a lot to help mitigate the psychological toll of just not having.
3. "There is so much mutual aid in Burlington among low income people." (1:23)

You know what I think I noticed most? Is that again, in Burlington, but I think that this is all of Vermont. That people take care of each other. There is so much mutual aid in Burlington among low-income people. And that's what's really interesting about it. It's like, it's like people who don't have anything taking care of other people who don't have anything. It's so beautiful. It's sad that it has to happen, but it's like, lovely. I don't know that you see that in other socioeconomic classes. I have never experienced it before. So yeah. And I think people don't see that. And I don't, I don't think people see how invested low-income folks are in caring for each other. I see it here all the time, too. Folks come in to the, you know, a client of ours will come into the waiting room with a friend who needs a thing and, you know, is hoping we can do it and wants to facilitate that because this person has challenges that make it hard for them even to walk in the--you know, they just need someone to walk in the waiting room and ask with them. There's like, there's a lot of care. And I'm sure that the, our outreach team could tell you, like they tell wonderful stories about stuff that goes on in the homeless encampments and how people really take care of each other.
4. "I do a lot of detective work..." (:44)

So yeah, "What is your problem? How can I help you?" Sometimes people call asking for a service that they know we provide. But if you can ask a few questions and have a conversation with them, you realize that you can really provide five or six things for them that will make everything easier, rather than just throwing that one thing that they ask for at them. So, that's kind of really fun. I do a lot of detective work, I say, because people call and either don't know what they need, or they don't know who they've been talking to, or they have some very novel situation going on in their lives that is, you know, not straightforward. So like, "How do we help? You know, can I call you back in 30 minutes? I will figure this out for you," that sort of thing.